People
Demis E. Glasford – Laboratory Director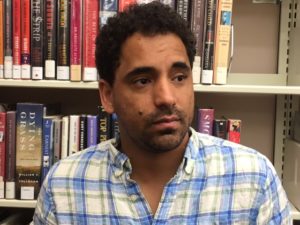 Dr. Glasford is an associate professor of Psychology at John Jay College and the Graduate Center, City University of New York in New York City. Demis completed his BA at the University of Colorado-at Boulder and his PhD at the University of Connecticut. As an applied behavioral scientist, he is particularly interested in bridging theory from diverse areas, innovation, and conducting research on topics or groups that receive relatively less empirical attention. He encourages his students to view social problems as an opportunity to inspire research, with an eye toward applied science end-points. As laboratory director, he seeks to facilitate a culture and laboratory of big ideas. As an advocate for racial, ethnic, and religious diversity, he is especially interested in increasing the diversity of scholars in the sciences. He has received close to two million dollars in external funding and has published in major scholarly journals, such as the Journal of Personality and Social Psychology, Journal of Experimental Social Psychology, and Personality and Social Psychology Bulletin.
Demis grew up in a proud West Indian (Guyanese) family. In addition to celebrating the Caribbean's rich history and food, he is especially fond of West Indian proverbs. In his free time, he enjoys film, sampling international cuisine, "old school" hip hop music, debating politics over wine, and of course…sport (he is an eternally optimistic Jets, Mets & Arsenal fan).
Download CV (PDF)
PhD Students
---
Silvana Ramos, Social Psychology Ph.D Student
Silvana received her BA in psychology from Purchase College, SUNY and began her PhD at the CUNY-Graduate Center in 2010. She is broadly interested in social categorization, social identity, and stereotype threat. In her research, Silvana seeks to understand how ideological polarization shapes the processing of messages from ingroup, as well as outgroup members, and how this processing affects real world outcomes, such as willingness to give positive feedback and cooperate. Silvana is also interested in pedagogical interventions to reduce stereotype threat effects among underrepresented groups within University settings.
Download CV (pdf)
---
Prabin Chandra Subedi, Social Psychology Ph.D Student
Prabin received a BA in Psychology from Lee University, an MA in Psychology from Ball State University, and began his PhD at the CUNY Graduate Center in 2013. Broadly, Prabin is interested in stereotyping, prejudice, and intergroup relations. He is especially interested in understanding the processes that explain when people recognize social injustice, the factors that lead to participation in protest and collective action, and also how bystanders respond to collective action. Prabin also is interested in understanding how people perceive, maintain, and change prejudiced attitudes, bias, and behaviors toward outgroup members. Prabin explores these topics from the perspectives of both disadvantaged and advantaged group members.
Download CV (pdf)
---
Mari Noelle Malvar, Social Psychology Ph.D Student
Noelle received her BA in Psychology from the University of the Philippines and recently completed her Master's degree at the New York University before joining the CUNY Graduate Center in 2014. Her broad interests include intergroup relations and decision-making, particularly in the face of injustice. Specifically, she is interested in
how the context of injustice (e.g. how information and/or request is presented) influences people's responses. She is also interested in how the presentation of social issues affects people's willingness to act.
Download CV (pdf)